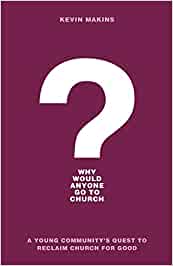 Why Would Anyone Go to Church?
Original price
$19.99
-
Original price
$19.99
When Kevin was 23 and didn't know any better, he started a congregation with some friends who were on the edge of faith. Together they hoped to discover if the church was worth fighting for. In this brutally honest account, he shares their story of becoming a community of misfits, outcasts, and oddballs who would learn that, even with all its faults, the church is worth being a part of . . . and must be reclaimed for good.

If you've been burned or burned out by the church, if you've been silenced or misunderstood, if you've left or never even joined in the first place, this candid, hopeful book is your invitation to consider what you miss out on when you give up on church--and what the church misses out on when it gives up on you.