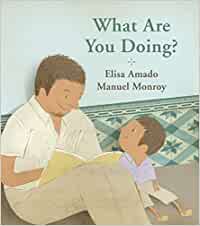 What Are You Doing?
Original price
$16.95
-
Original price
$16.95
It's the first day of school, but before he goes Chepito runs outside to play. He comes across all kinds of people in his neighborhood -- a man reading a newspaper, a young girl enjoying a comic, a couple of tourists consulting a guidebook, an archeologist studying hieroglyphics . . .

"Why, why, why?" he sings, and they each have an answer for him. Later that day Chepito discovers for himself that reading is catching, and he even brings home a book to read to his younger sister.

Set in a delightfully retro world by illustrator Manuel Monroy, this book is a true celebration of reading.