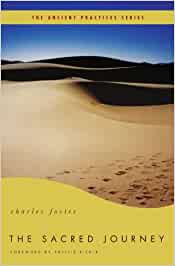 The Sacred Journey
Original price
$14.50
-
Original price
$14.50
Humans are built to wander. History is crisscrossed by their tracks. Sometimes there are obvious reasons for it: to get better food for themselves or their animals; to escape weather, wars, or plague. But sometimes they go―at great expense and risk―in the name of God, seeking a place that feels sacred, that speaks to the heart.

God himself seems to have a bias toward the nomad. The road is a favored place ― a place of epiphany.

That's all very well if you are fit and free. But what if you are paralyzed by responsibility or disease? What if the only journey you can make is to the office, the school, or the bathroom?

Best-selling English author and adventurer Charles Foster has wandered quite a bit, and he knows what can be found (and lost) on a sacred journey. He knows that pilgrimage involves doing something with whatever faith you have. And faith, like muscle, likes being worked.

Exploring the history of pilgrimage across cultures and religions, Foster uses tales of his own travels to examine the idea of approaching each day as a pilgrimage, and he offers encouragement to anyone who wants to experience a sacred journey. The result is an intoxicating, highly readable blend of robust theology and lyrical anecdote ― an essential guidebook for every traveler in search of the truth about God, himself, and the world.

When Jesus said "Follow me," he meant us to hit the road with him. The Sacred Journey will show you how.