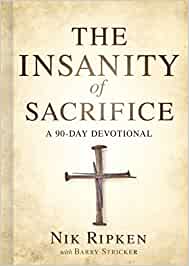 The Insanity of Sacrifice
Original price
$26.99
-
Original price
$26.99
The Insanity of God; The Insanity of Obedience) leads readers through ninety days of meditating on the central place sacrifice holds in Christianity, both in God's actions and in our response.

God's ways are unusual. They are unexpected. Many of us know that and have experienced it. We certainly have read about it in the Bible. Still, we are often startled when we experience God's unusual ways firsthand. The methods God uses to accomplish His purposes are often difficult for us to understand.

Nowhere do we see that more clearly than in the role sacrifice plays in the activity of God.

In this ninety-day devotional, Nik Ripken leads readers to consider the centrality of sacrifice in God's plan. We see this supremely in the sacrifice of Jesus on the cross for the sins of the world. But readers will also come to see the centrality of sacrifice in their response to the gospel.