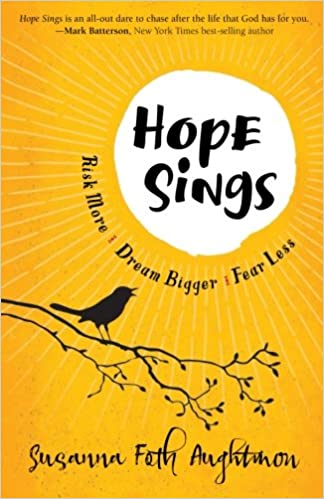 Hope Sings
Original price
$22.95
-
Original price
$22.95
Following God on our journey of faith can be a journey in the dark. Oftentimes, we don't know where we are going or where we will end up. Sometimes we feel completely lost. We get caught up in fear or anxiety. But Faith has a best friend named Hope. Hope shows up when we get to know the effervescent character of the One who loves us most of all.

In Aughtmon's new book, Hope Sings, the reader is invited to follow God on a faith journey. God wants us to reach for dreams that are out of our grasp. To fight for impossible causes. To believe for the miraculous. To hold on to Him when all else seems lost.

God wants us to put our hope in Him. In His character. In His mercy. His peace. His grace. His worthiness. His faithfulness. His ability to restore. His healing power. His authentic goodness. Our hope is in the One who calms seas and breathes life back into the dead. His voice is singing out, bringing light into the dark, inviting us to join Him in His everlasting song of hope.