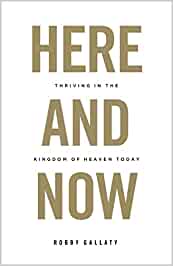 Here and Now
Original price
$22.95
-
Original price
$22.95
The Christian life was so much more than just a one-time decision to secure a place in heaven.

What if you could experience heaven on earth today? Not flying angels singing on clouds, but the fulfilled, abundant life Jesus promised in the Bible―a life that, regardless of your circumstances or your present context, experiences joy, happiness, and peace that is difficult to encapsulate in human terms. What if heaven was available to us today?

Pastor and author Robby Gallaty thinks it is.

We have been taught that salvation is getting man out of earth to live in heaven when the Bible teaches that God desires to bring heaven to earth through man. In Here and Now, readers will journey together to uncover the nucleus of Jesus' messages, which says the opposite. Jesus spoke about the Kingdom of Heaven and the Kingdom of God (both are synonymous as we will see) more than any other topic. No other concept is even close.